Books by James Heartfield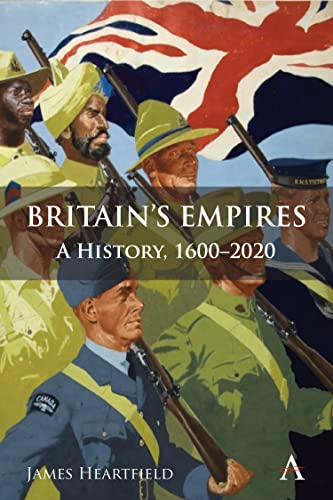 Britain's Empires: A History - 1600-2020,

Anthem Press, 2022, ISBN: 978-1839987243

'There are few single volume histories of the British Empire that match this book's temporal and geographical span. Well illustrated and balanced across political, economic and cultural approaches, it serves as an excellent overview of a vast, dynamic and enduring phenomenon that reconfigured Britain and the world' — Professor Alan Lester, FRHistS, School of Global Studies, University of Sussex, UK.


'Heartfield goes beyond the teleological, moralistic and one-size-fits-all approach to the understanding of history that has become so common in contemporary debates about the past. This book takes history and human agency seriously, revealing the complexities, contradictions and competing motives of the different periods of Britain's Empire, thus bringing forth new insights. This makes for a knowledge-rich, refreshing and challenging read" — Inaya Folarin Iman.


"James Heartfield is without a doubt one of Britain's most original and insightful living historians. His skill in tracing the roots of Britain's imperial history and relating it to wider debates in social science is wonderfully displayed in this book. Read it and be prepared to have your thinking challenged' — Philip Cunliffe, Associate Professor in International Relations, University College London.


'This excellent text offers a deft periodisation; vivid illustrations of key processes and moments of the different times and places of British empire and its discontents; illuminating interconnections between change in Britain and global change; a rich use of contemporary sources; and the author's nuanced judgements' —Henry Bernstein, Professor Emeritus of Development Studies, SOAS, University of London.


'In this wide-ranging and fascinating book, James Heartfield takes a critical approach to the past, observing the many changes and continuities in Britain's imperial relationships and shedding light on the various economic, political, and ideological factors that drove those changes. Anyone seeking to understand the (uneven) development of British colonialism over the course of more than four centuries, should read this book'— Dr Cheryl Hudson, Lecturer in U.S. Political History, University of Liverpool.


Amazon UK Amazon US Booktopia AUS Amazon India






The British and Foreign Anti-Slavery Society: a History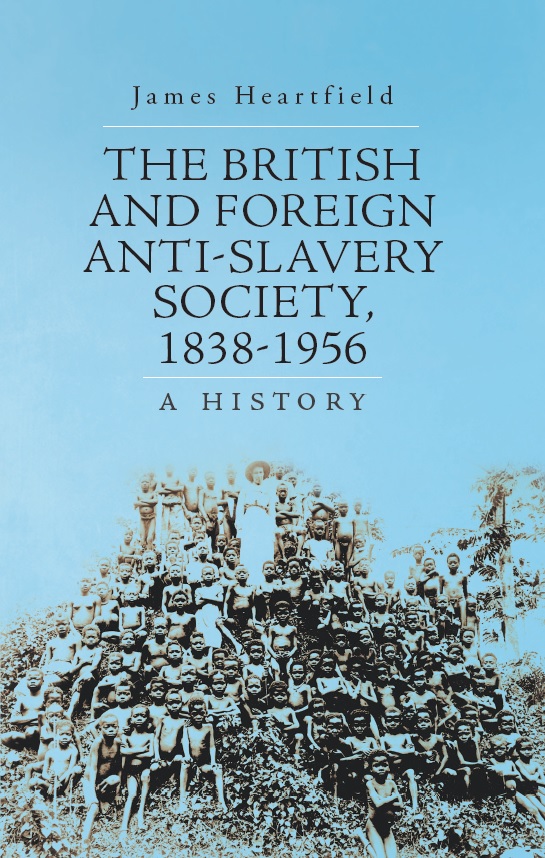 Amazon

UK



'an excellent book which narrates for the first time, and in fine-grain detail, the works, ideals, tensions and shifts of the Anti-Slavery Society. Enthusiastically recommended.' — Robbie Shilliam, Reader in International Relations, Queen Mary University of London



'Heartfield's important and meticulously-documented account shows clearly how the intertwining of ideals and interests in the original abolitionist movement produced the convergence of liberal anti-slavery and British imperialism in the following century.' — Nicholas Draper, University College London

'A very readable book by an accomplished author who handles narrative, argument and analysis with admirable clarity. The work of the Society and the zeitgeist which powered it is a remarkable story and Heartfield's is a significant contribution to our understanding of an important strand of British social and intellectual history.' — Richard Rathbone, emeritus professor and professorial research associate at SOAS, London; co-author of African History: A Very Short Introduction

'The most comprehensive history yet of an organisation that laid foundations for Britain's philanthropic interventions overseas. Heartfield enables us to see how antislavery activists saw themselves reforming the world, while also hinting at their often unintended effects. This is a vital resource for anyone grappling with the complicated legacies of Britain's Empire.' — Alan Lester, Professor of Historical Geography, University of Sussex

Dorothy Smith in Africa Today writes that the 'book can benefit general readers interested in the study of the African slave trade, as well as researchers and students.'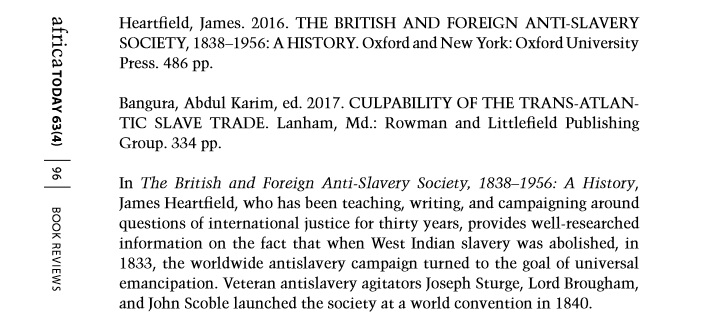 Tabea Dilling writes the following review in Immigration, Asylum and Nationality Law: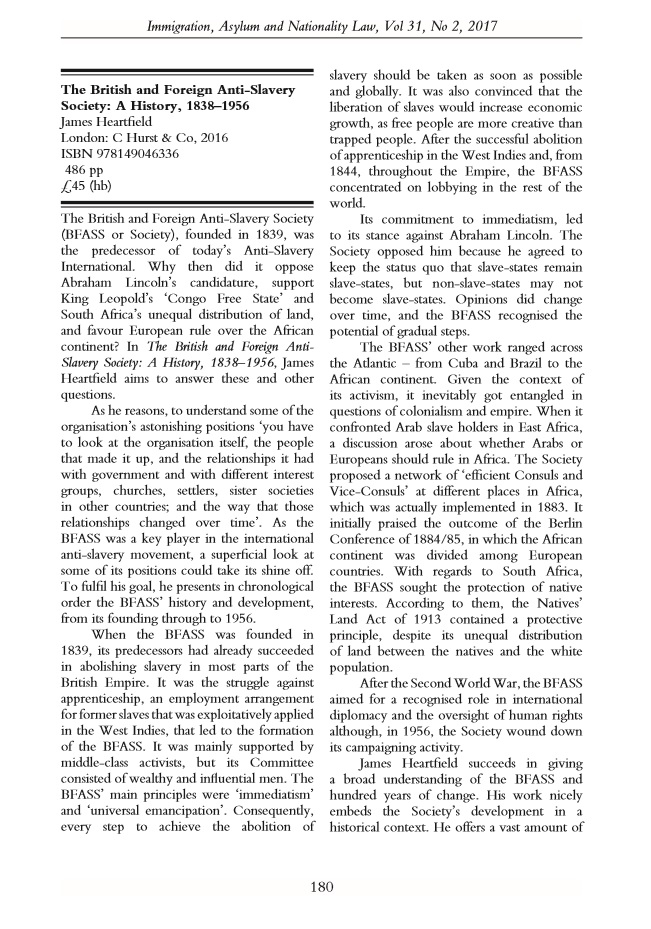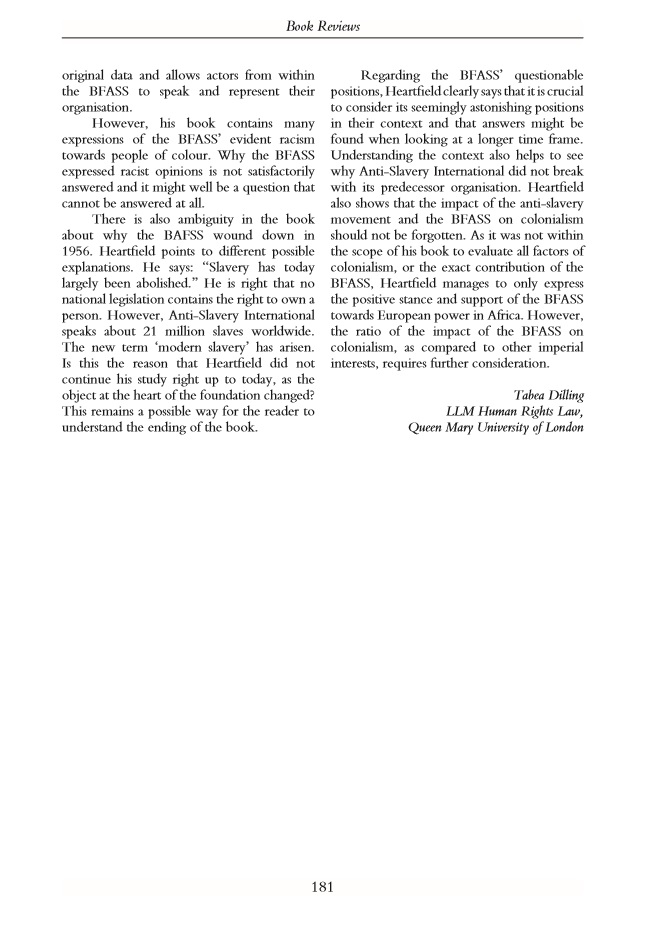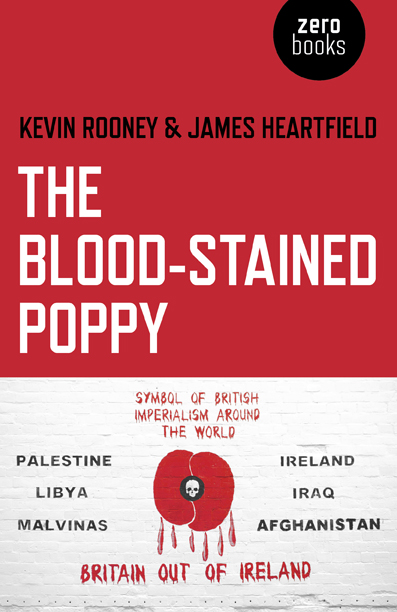 The Blood-Stained Poppy,
by James Heartfield and Kevin Rooney
Zer0 Books, 2019,

£12.99, by Paypal






Equal Opportunities Revolution

'a vital read for anyone trying to get to grips with the nature of the fundamental social changes in the UK' Joanna Williams.

The Equal Opportunities Revolution explains why bosses took equal opportunities on board just as they were tearing up union rights at work. It asks why greater rights led to greater inequality, and why advances in race and sex equality ran alongside social inequality. It shows how the equal opportunities revolution became the general model for workplace relations in the decades that followed, and how it did not challenge, but rather perfected the liberalisation of labour law. The right won the economic war, the left won the culture war - and this book explains how.

On Amazon UK, US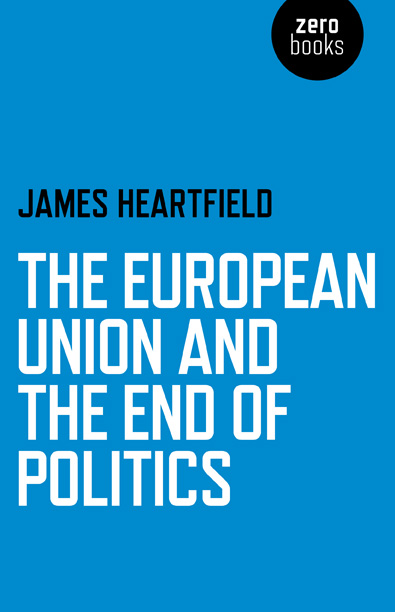 The European Union and the End of Politics


'James Heartfield's groundbreaking new book'
Daniel Ben-Ami
Amazon UK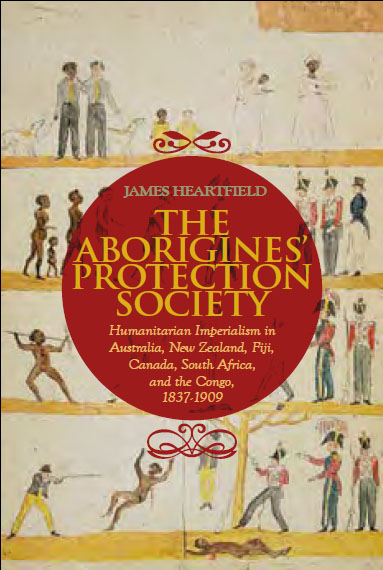 The Aborigines' Protection Society: Humanitarian Imperialism in Australia, New Zealand, Fiji, Canada, South Africa, and the Congo, 1836-1909,


Hardback ISBN: 9781849041201 £25.00 (UK) $45 (US)
'a major, well-written, and closely research contribution to the study of nineteenth century British colonialism'
Geographical
, Nov 2011

'James Heartfield has grasped the nettle to give us a cogent, elegantly written overview of the society and its history to 1909',
Journal of Pacific History
, Dec 2012

'a compelling book, rich in historical detail',
Aboriginal History
Vol 36, 2012

'Heartfield's book is set to become a foundational text', according to
Settler Colonial Studies
Douglas Lorimer in
Victorian Studies
Volume 56, Number 3, Spring 2014

Caroline Shaw in
The Journal of Human Rights
06 Jan 2015

Critical Muslim
, March 2013

Order it from
Hurst Books
or from
Columbia University Press
.

Also available from:
Amazon UK
Amazon US
Borders Aus
Amazon CA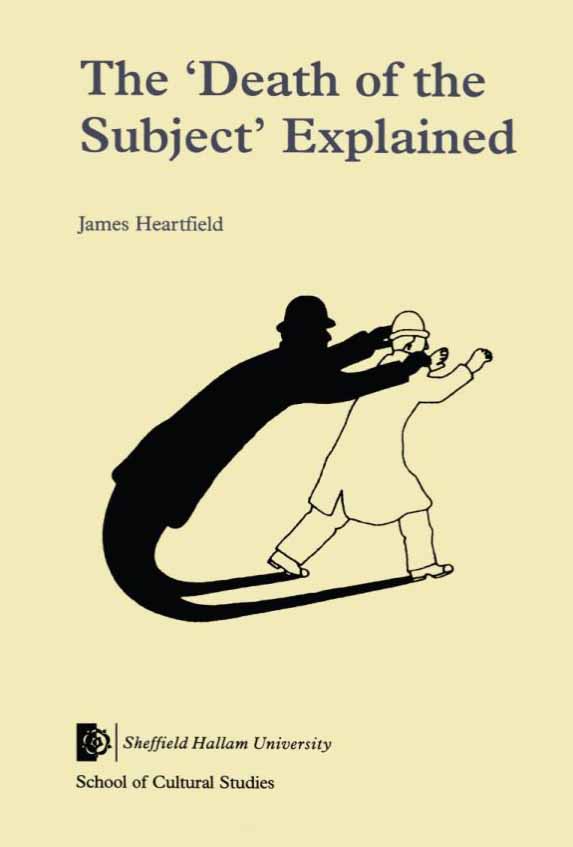 The 'Death of the Subject' Explained

'Those trying to get an intellectual handle on our dumbed-down society could start with James Heartfield's The 'Death of the Subject' Explained' New Statesman

Read 'Postmodernism and the Subject', from the Chapter One, and Chapter 6, 'Algeria and the Defeat of French Humanism'

'This absolutely fascinating book', Raymond Tallis
'Striking and original', Terry Eagleton

Review in Spiked-online

Amazon UK
An Unpatriotic History of the Second World War
'A book that I would nominate for Isaac Deutscher Prize of 2013'

Louis Proyect




'Strong stuff, and in sharp contrast with today's best-selling histories',

Patrick West




'Excellent',

Pat Mills




'highly recommended as a useful corrective to World War Two history'

Socialist Standard




'a trenchant and sustained demolition of the People's War mythology' Neil Davenport,

Sp!ked




'a compelling and fascinating analysis, demolishing conventional accounts of the War'

Anti-Capitalist Initiative
Available now from
Amazon UK
Amazon US
ZER0 Books
Watch James Heartfield
talking
on the history of the war
Related articles:
World War as Class War
by James Heartfield,
for Mute. Another copy. In Spanish:
La Guerra Mondial como Guerra des clases
'The Battle of the Books', at
Spiked-online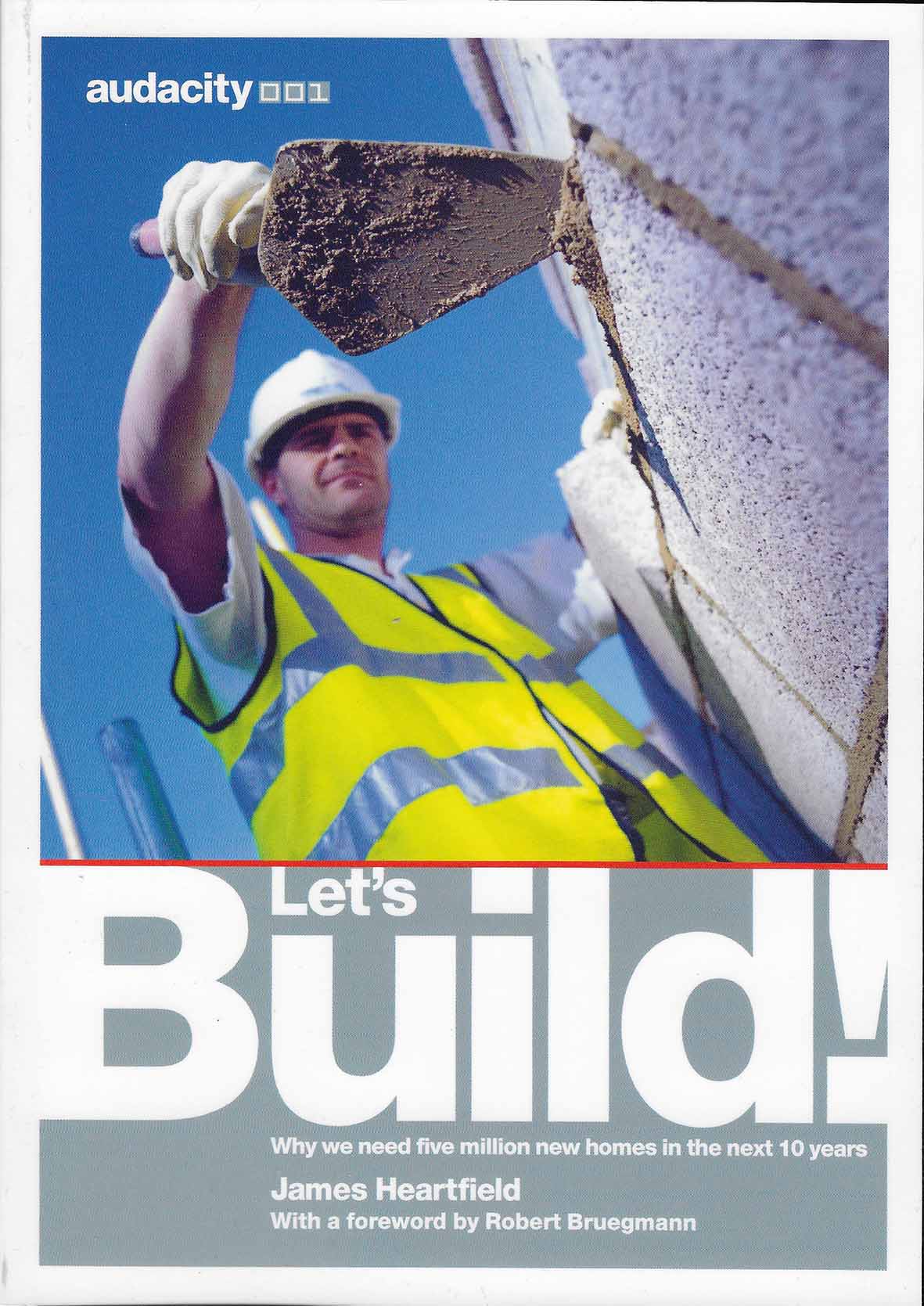 Let's Build!
Why we need five million homes in the next 10 years
is published by Audacity on 23 September 2006
Amazon UK

Articles on
Let's Build
Gordon Brown's Eco Towns Con Spiked, 7 April '08
Farewell to the City
a paper to the Rural Futures Conference, published in
Spiked
4 April 2006...also available in Italian
Interdependent we stand, divided we fall,
'Herbert Girardet and the plastic concept of sustainability' in
Rising East online
, January 2006
'Londonostalgia',
Blueprint,
September 2004.
Who's afraid of the Thames Gateway?
Spiked
6 January 2006
City, suburbs and snobs
Spiked 30 November 2005
The government must stop finding reasons not to build new homes
Guardian 21 February 2005
Confusing signals in the housing debate
and
New communities, same old problems
, Times Educational Supplement, 14 January 2005
All talk and no bricks
, Spiked, 26 January 2005
Concrete over the Countryside,
Blueprint, January 2002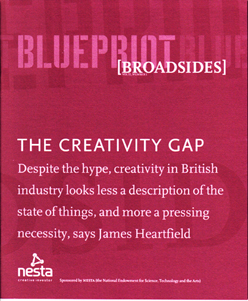 James Heartfield on the 'creative industries':




Gordon Brown at NESTA for

Mute

and

Spiked

;


Creative London

for Rising East Online;

Escape the Creative Ghetto,

with Chris Powell at NESTA;




Cox Report: creative accounting

for Spiked;




Quoted in Larry Elliott's

Better design requires better Products

in the Guardian;




'Winning the European Capital of Culture bid will not re-build Liverpool's industry'

Liverpool Daily Post;

Chris Smith's Creative Accounting

for the Guardian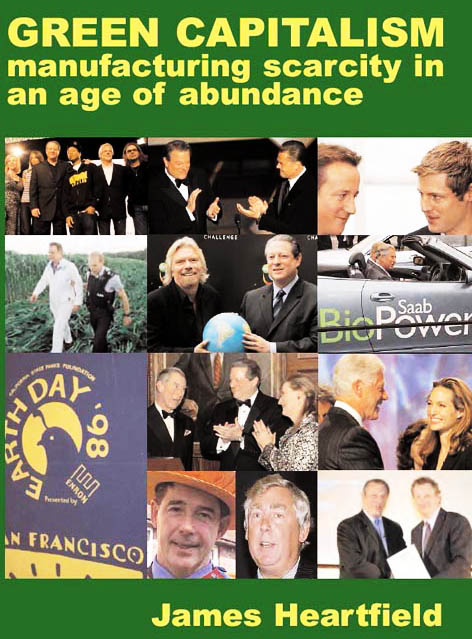 Green Capitalism: Manufacturing Scarcity in an Age of Abundance

A polemic against 'Green Capitalism'. James Heartfield accuses the 'Green Capitalists' of profiteering over climate change and other environmental scares. Green capitalists like Zac Goldsmith and Al Gore are manufacturing scarcity to boost prices. The technological revolution has removed scarcity from most of our lives, but the green capitalists are trying to re-invent it. Chapters on 1. The age of plenty, 2. The retreat from production, 3. The green capitalists, 4. Manufactured scarcity, 5. Green consumerism, 6. The economy of wasting time, 7. Green imperialism, 8. Environmental economics, 9. Green socialism?, 10. The unnatural limits to growth, plus an appendix, The revolution in technique. Bibliography and index. 136 pp.
Amazon UK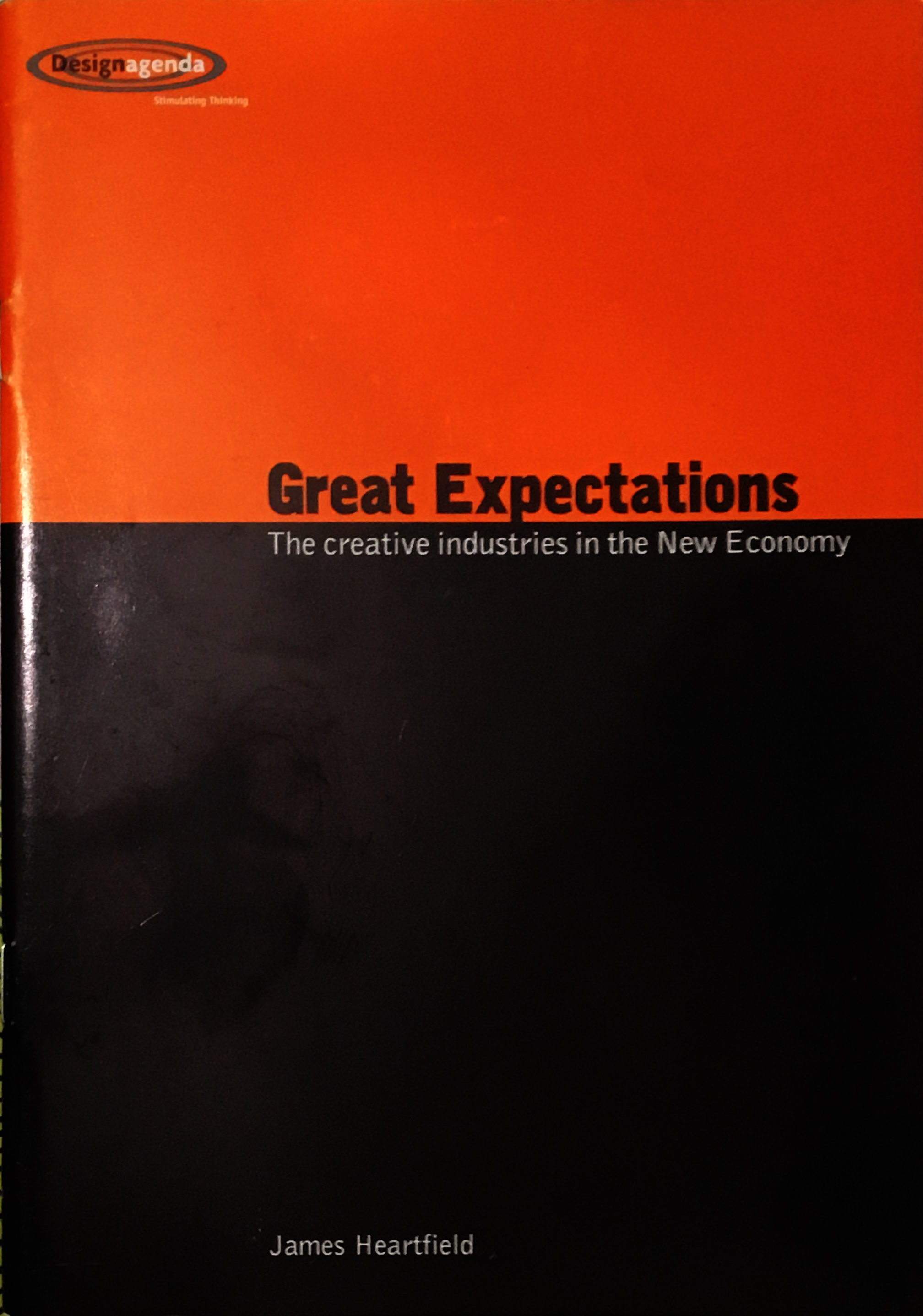 Great Expectations
Amazon UK
'In this thought-provoking paper, Heartfield attempts to lay bare the facts about the changing perception of design and the arts in Britain today. He develops the idea that there has been a shift in the national psyche, elevating artists and designers to almost mythological status -- heights they often cannot live up to. According to Heartfield, the way in which the art world has responded to these "great expectations" has been varied: examples range from Tate Modern, which has captured the public imagination, to the much derided Millennium Dome. However, he conveys a darker side to this "style revolution", in that "the public's fascination with creative work... has come about because of the lack of reward in conventional work". A balanced, refreshing account in a social climate of "Cool Britannia" and Tory xenophobia.'
The New Statesman,
September 11, 2000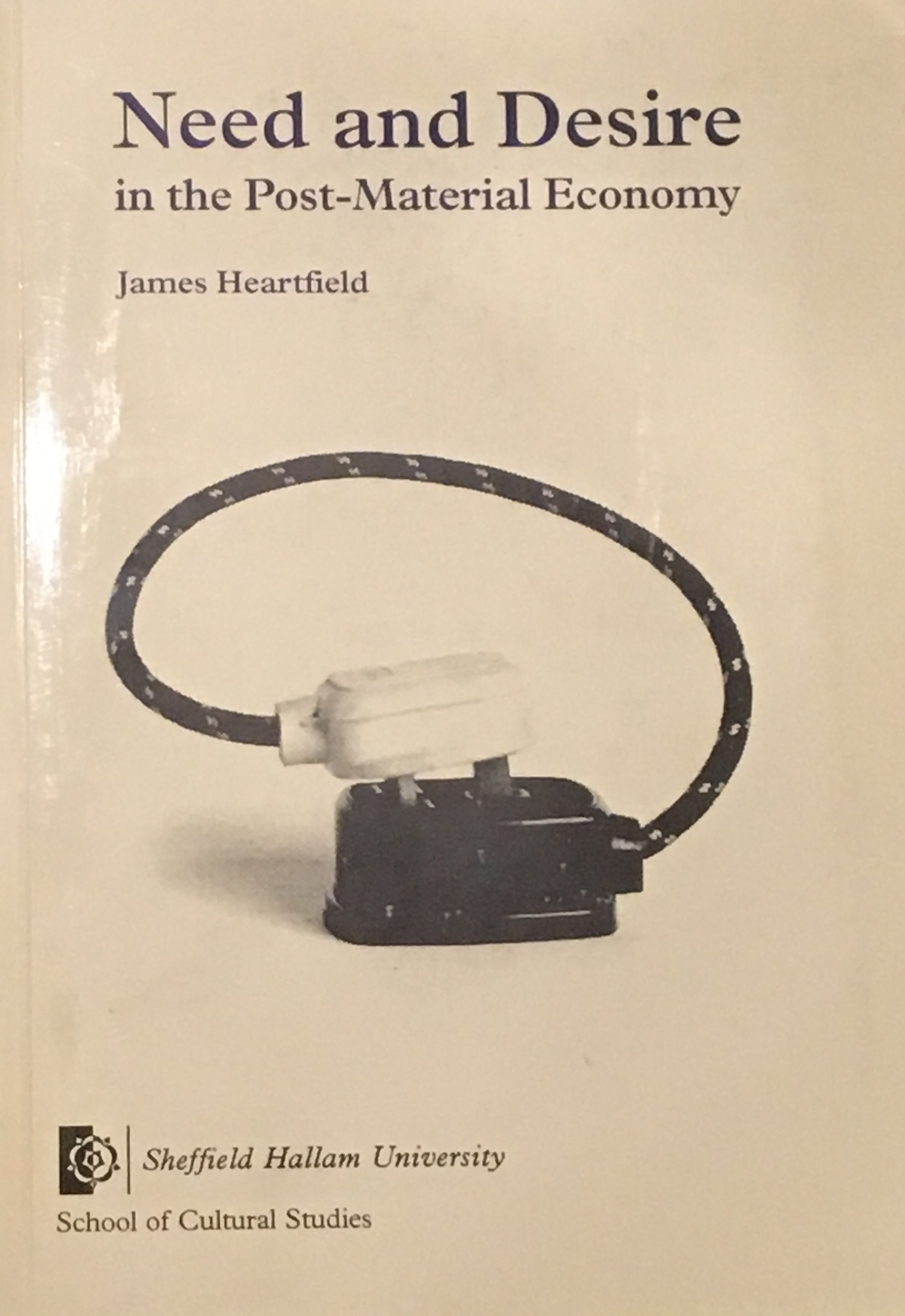 Need and Desire in the Post-Material Economy

81pp, ISBN 08639 790 5
'An excellent and timely intervention,' Terry Eagleton

Amazon UK

' James Heartfield suggests that the 'post-material' economy is a self-serving concept and that modern economic thought masks the decline in western European economies . After the collapse of industry, we have a "consumer economy", which is merely non-productive. This attitude emerged as disputes over production have become less relevant (the unions have been squashed), while the anti-Marxist "politics of desire" is built on the exploitative surplus: the real social issues are avoided. The consumption of workers is limited to their basic needs, and the rich still luxuriate in their surplus value. '
New Statesman, 24 July 1998

'It's a fine little booklet. Even when I disagree with James, I always admire his intelligence & clarity, and Need & Desire is no exception to his usual standard.'
Doug Henwood, author Wall Street
'Essential reading for anyone with an interest in today's culture'
The Cherwell, 16 October 1998
'In Need and Desire in the Post-Material Economy James Heartfield delivers a brutal exposure of the post-material society or "creative economy"'
Peter Ray, LM, November 1998
'A trenchant, lucid and much-needed critique of the myths of identity politics and the "consumer society".' Kenan Malik, author The Meaning of Race

'At a time when mainstream theorists from Derrida to Butler have used Bataille's notion of "general economy" to religitimate in a "new" rhetoric the existing social order, James Heartfield makes a rigourous argument for a runderstanding of "production" and " consumption" and for a clear distintion between "need" and "desire". For a social justice based of an equitable access to material resources, Heartfield argues that these terms must be clearly distinguished.'
Donald Morton, editor The Material Queer

'James Heartfield argues that post-materialism has gained ground as a result of low rates of industrial growth.'
Investment Advisor, 9 November 1998
'Through his materialistic glasses, social theorist James Heartfield puts the post-materialists in their place'.
Varsity, 30 October, 1998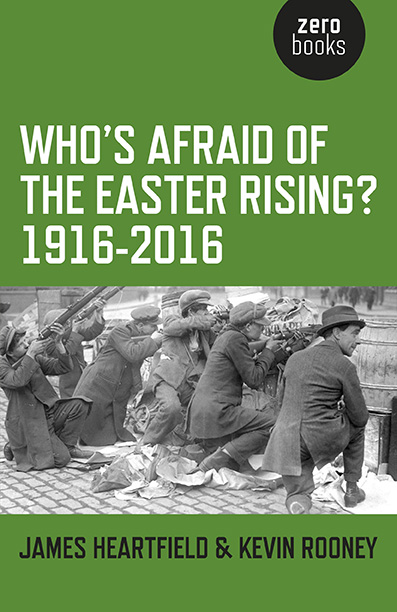 Who's Afraid of the Easter Rising?

James Heartfield and Kevin Rooney



'If you want the advanced course in how the Irish changed history (perhaps more than they wanted to), I recommend the witty and surprising book "Who's Afraid of the Easter Rising?" by radical historians James Heartfield and Kevin Rooney. They go deep into how the Rising has bedeviled Irish politicians and historians, and how its ripple effects were felt among anti-imperialist movements in India, Africa, the Caribbean and elsewhere.' Andrew O'Hehir, Salon.com



'I recommend this book', Professor Paul Bew



'An inspiring exploration of the armed uprising against the British government in Dublin in 1916,' Joanna Williams, Times Higher Education Supplement



'a penetrating reflection on the controversies surrounding the Dublin revolt of 1916 as its centenary year approaches,' Michael Fitzpatrick



'an interesting, valuable and timely short book on the 1916 Easter Rising and how it has been commemorated since 1966. ... a fine account of the Easter Rising and its context' Liam Ó Ruairc.



'charts the impact of the rising both in Irish historiography and Irish collective memory over the past century', Siobhan Morris, Institute of Historical Research

<![if gte IE 9]> <![endif]><![if gte IE 9]> <![endif]>

One hundred years ago, Easter 1916, Irish revolutionaries rose against the British Empire proclaiming a Republic from the steps of the General Post Office in Dublin. The men and women of the Easter Rising were defeated by the overwhelming force of the British Army, in five days of intense fighting. Their leaders were executed.



But the Easter Rising lit a fire that ended with the whole country turning against Westminsters rule, and founding a nation.

Today, the heirs to the Irish state are embarrassed about 1916. They are ashamed that their state owes its origins to a revolution. Along with academics and other commentators in the press and on television they dismiss the Rising as the work of violent fanatics, and the defeat of constitutional politics.



Who's Afraid of the Easter Rising? explains why today's Dublin elite are recoiling from the origins of their state in a popular struggle.

Where the critics paint the Rising as an armed conspiracy, we explain that it was in fact a revolt against war; not a militaristic upsurge, but the first challenge to the awful slaughter of the First World War. The Statesmen of Europe sacrificed millions upon the altar of war.

Their recruiting sergeants in Ireland, Edward Carson and John Redmond sent 200,000 Irishmen into the slaughter and nearly 50,000 were killed. The Easter Rising drew a halt to British recruitment, and the blow to the Empire was the first crack in a growing revolt against the war, followed by the Russian Revolution in 1917, and the German revolution the following year which ended the conflict.

The Easter Rising was an inspiration to those who were challenging the Empires of Europe, from India to Vietnam, from New Zealand to Moscow; it was an inspiration to British activists like John Maclean and Sylvia Pankhurst; and it was an inspiration to the Irish men and women who rose up against British rule to free their nation.

Available from Amazon UK * Amazon UK

e-book price £6.99 || $9.99

Paperback price £11.99 || $20.95

Paperback:168 pages168 pages

Publisher::Zero Books (27 Nov. 2015)Zero Books (27 Nov. 2015)

Language::EnglishEnglish

ISBN-10::17827988701782798870

ISBN-13::978-17827988733

Past Events on Who's Afraid of the Easter Rising


Debating the Easter Rising with Liam McNulty at Ideas for Freedom, 9 July 2016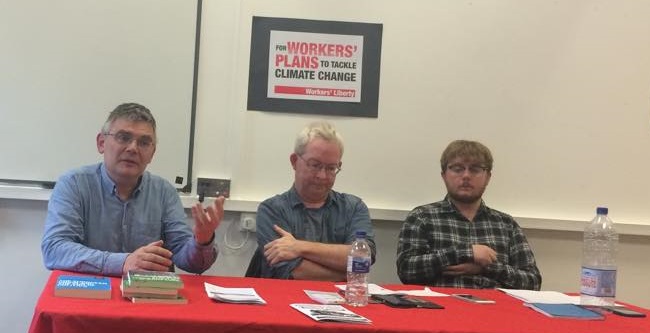 <![if gte IE 9]> <![endif]> <![if gte IE 9]> <![endif]>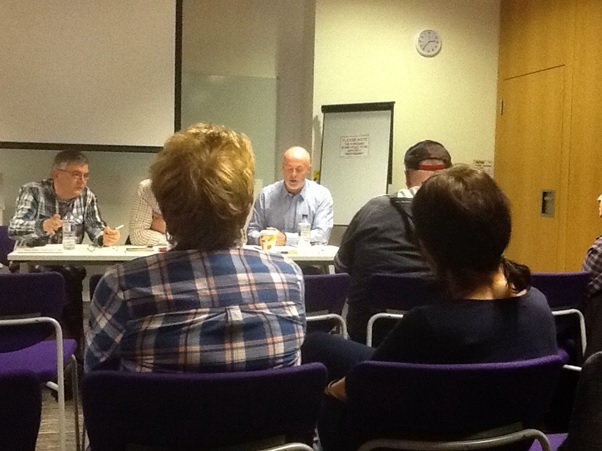 'How Revolutionary was the Easter Rising? Liverpool Central Library Saturday 21 May at 2pm.
Organised by supporters of Critique - the journal of socialist theory.







Event to mark the 100th anniversary of 1916




With John Newsinger, Chris Bambery, Catherine Bergin and James Heartfield




at the Institute of Historical Research,




University of London




Saturday 30th April, 12- 4pm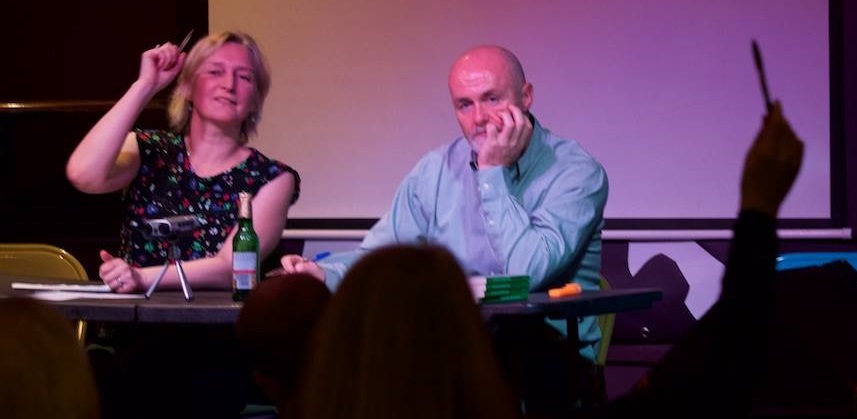 Easter Rising 1916 – Heroes or Villains?
With Kevin Rooney
Thursday 14th April 2016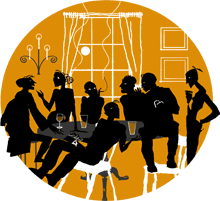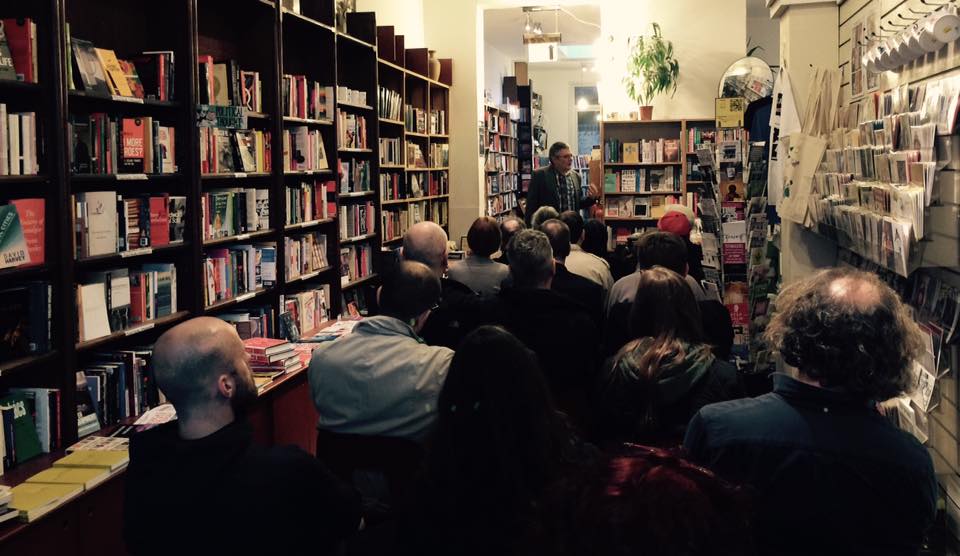 James Heartfield speaking Housmans Bookshop
Wednesday 6th April 2016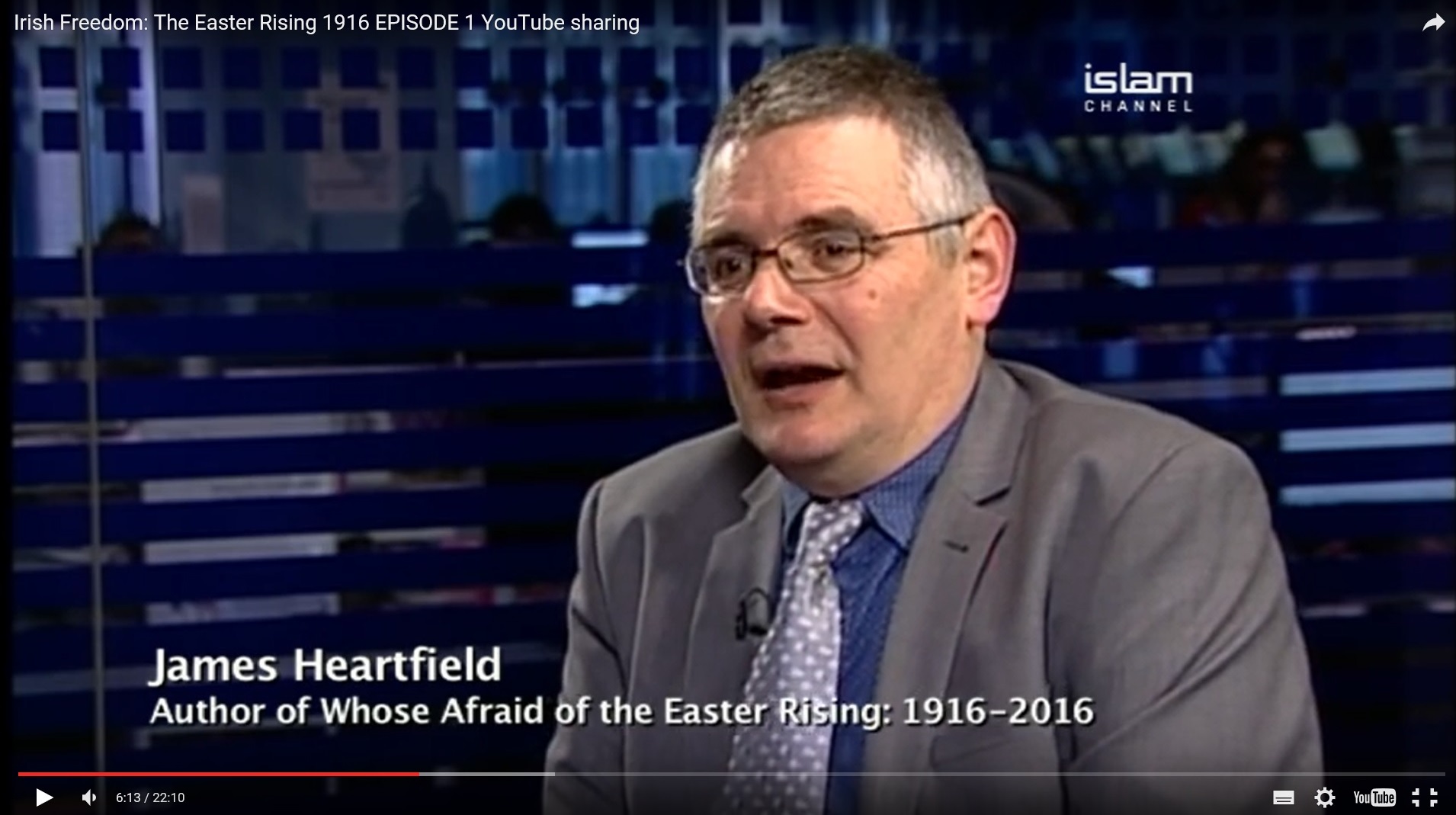 Islam TV, 23 and 30 March 2016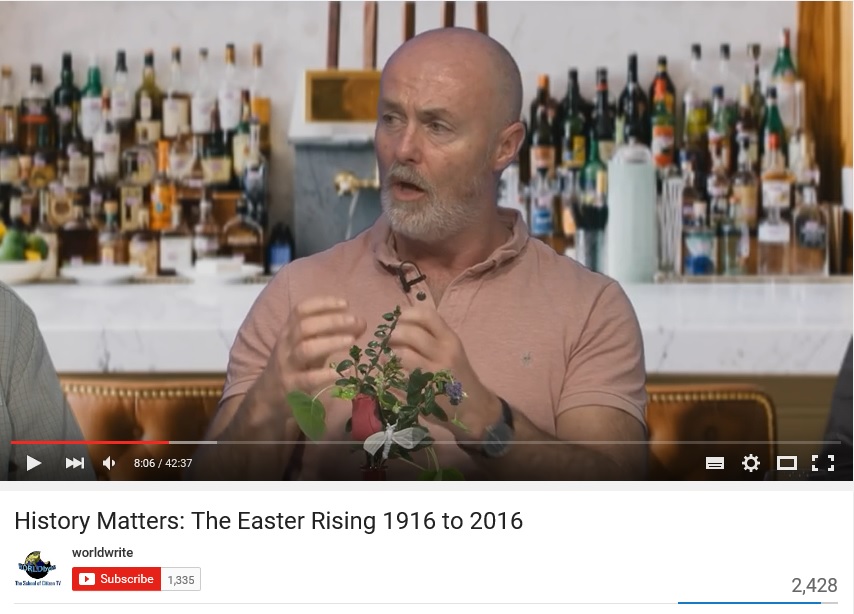 26 March 2016, History Matters: The Easter Rising 1916 to 2016


James Connolly and the Irish Easter Rising
Room 109, Deptford Town Hall, Goldsmiths. New Cross Road.
Wednesday, 23 March, 18:30

Speakers: James Heartfield and Cathy Nugent, Workers' Liberty



Dublin Salon, 15 November 2015, with Margaret O'Callaghan, Justyn Smith, Kevin Rooney and Derek Molyneux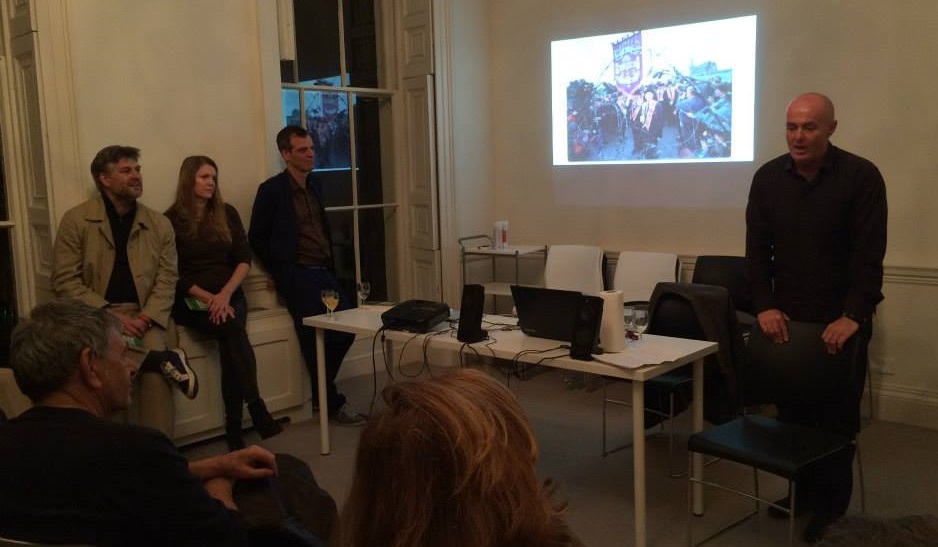 Accent, 3 November 2015, Bedford Square, London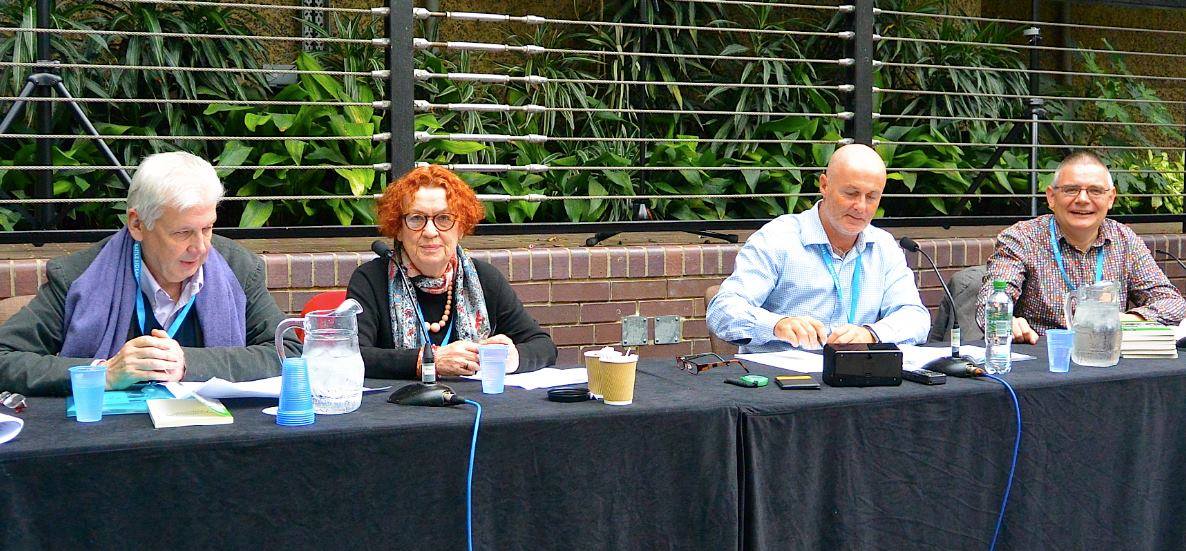 Battle of Ideas, 18 October 2015, with James Heartfield, Paul Bew and Ruth Dudley Edwards Open on SoundCloud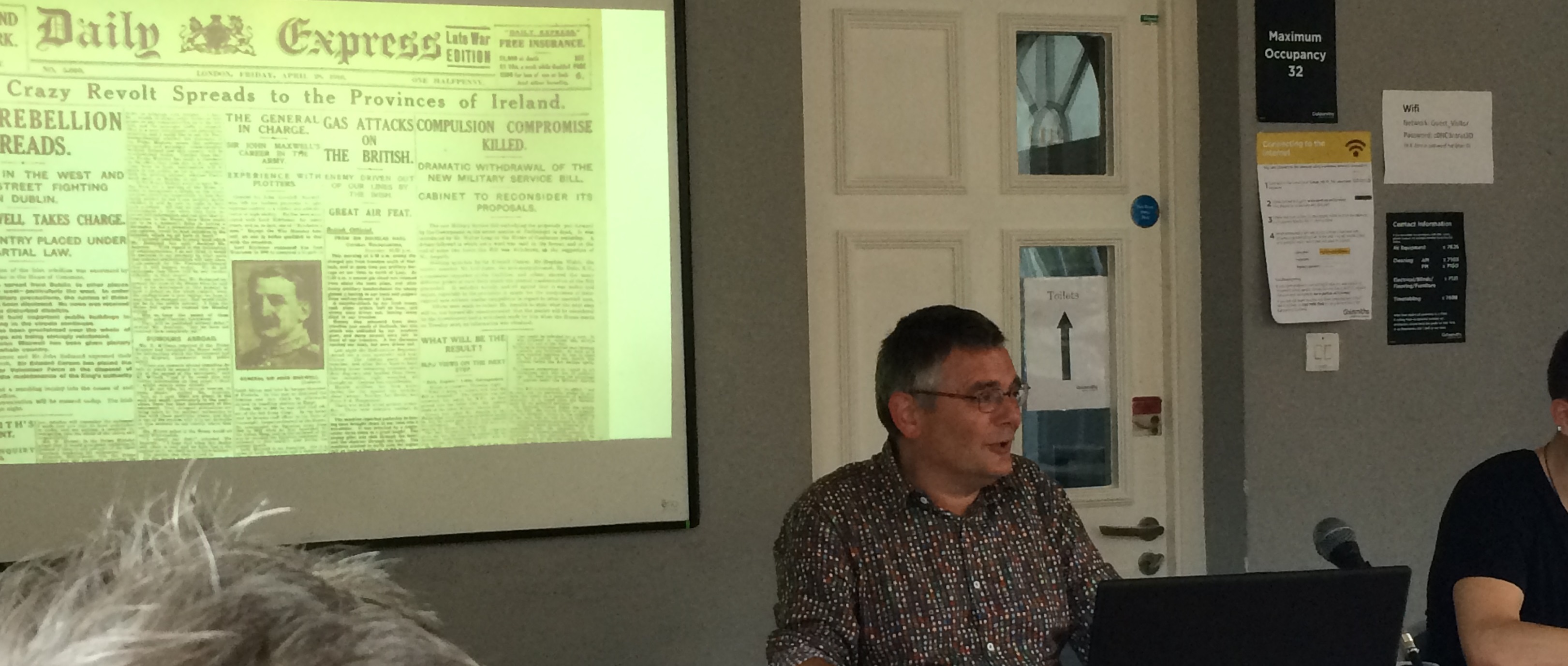 CPGB Conference, 22 August 2015, Goldsmiths