Heartfield on video
'Equal Opportunities Revolution' with Worldwrite, 'Books and Buns,' 13 October 2017
'The death of the Subject', at the Academy of Ideas, 16 July 2017
History Matters: The Easter Rising 1916 to 2016, 26 March 2016,
Islam TV, 23 and 30 March 2016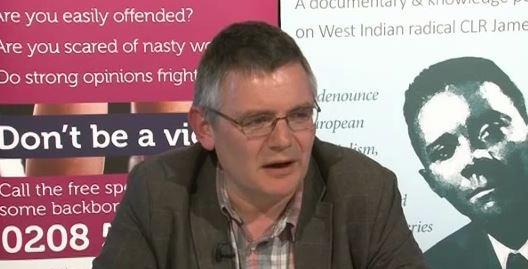 The Slavery Debate: Why C.L.R James & Eric Williams were right, Worldwrite, June 2015
CLR James and opposition to the Second World War, Worldwrite, May 2015
What Happened to Agency?, The last in a series of talks on 'What Does It Mean To Be Human?' held at The Tetley in Leeds, Autumn 2014
Art in the Pennines, for Manchester Salon, with Ann Jackson and John Siddique, chaired by Pauline Hadaway, May 2014
The EU and the End of Politics Spring 2014
Revisiting Freud: Is Childhood Beginning to Dominate Adulthood? Manchester Salon discussion from September 2013 recorded at the Three Minute Theatre, Afflecks Arcade. James Heartfield and Ian Parker reflect on what Freud can tell us about the extent to which our past experiences shape who we are as adults.
Demythologising the Second World War, Sheffield Salon November 2012
Firebreathing, May 2010
Britain's housing crisis, American Dream Coalition, 2007
Alexander Litvinenko press conference, 12 December 2006
Design Agenda, 1998 talking about rebranding Britain at the Design Agenda day conference, 4 July 1998.
back to heartfield.org